Visitor center in the Schöneweide industrial salon – starting point for discovery tours
The visitor center for Berlin's industrial culture is also located in the Schöneweide industrial salon. The counter provides information on tourist attractions in the Treptow-Köpenick district, as well as all the information on sites of Berlin's industrial culture. The souvenir store sells maps, posters, brochures and handmade jewelry – crafted from the remnants of industrial production.
Interesting tours through the industrial and architectural history of Schöneweide are offered. Exhibitions and events illuminate the site's history and present.
If there is no corona lockdown, the following times apply:
Visitor hours: Wednesday to Sunday, 2 to 6 p.m.
Office hours:        Tuesday through Thursday, 10 a.m. to 5 p.m., Friday 10 a.m. to 2 p.m.
Office phone: 030 53007042

Touristinfo at Schlossplatz Köpenick
The Tourist-Information at the Schloßplatz in Berlin-Köpenick was again awarded the "I-MARKE" for 3 years in 2017 with 95% of the achievable points of the German Tourism Association (DTV).
Our service ranges from room reservation, souvenir sales to the possibility of booking bus day trips and tickets for boat trips, for Flixbus, public transport and events.
Opening hours
Monday – Friday 10 am – 4 pm
Contact
Tourism Association Berlin Treptow-Köpenick e.V.
Tourist Information
Alt-Köpenick 31 – 33,
12555 Berlin (Am Schloßplatz)
Phone: (030) 65 48 43 48,
Fax: (030) 65 48 43 49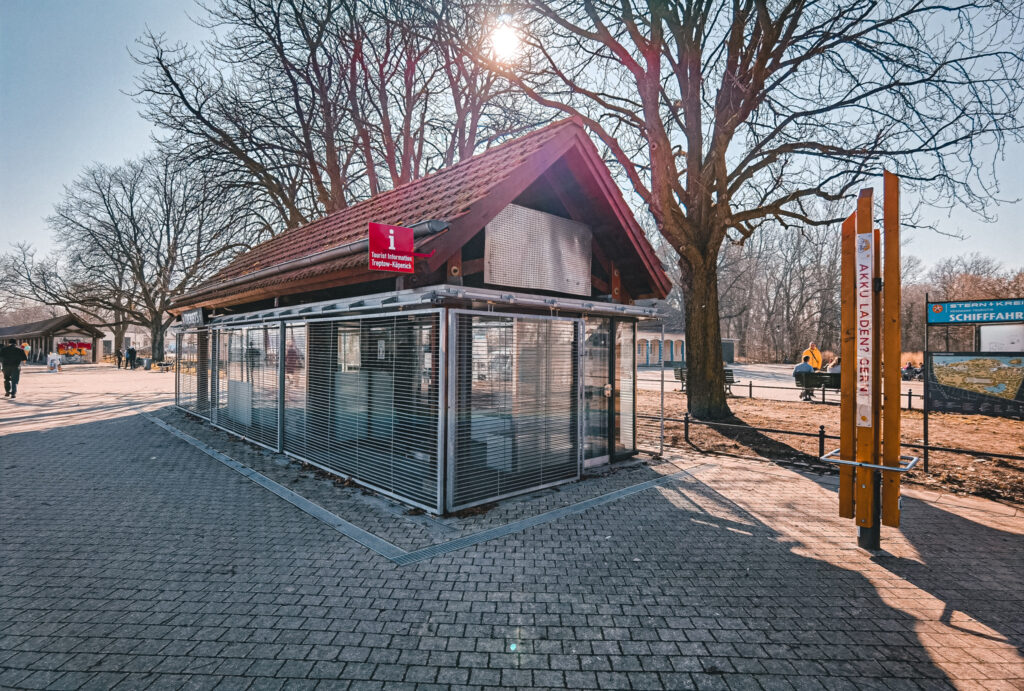 Infopoint at Treptower harbor
The modern tourist information directly at the Treptow harbor.
Opening hours expected from 6.5.2021
daily from 10 – 20 o'clock
Contact
Puschkinallee 15, 12435 Berlin